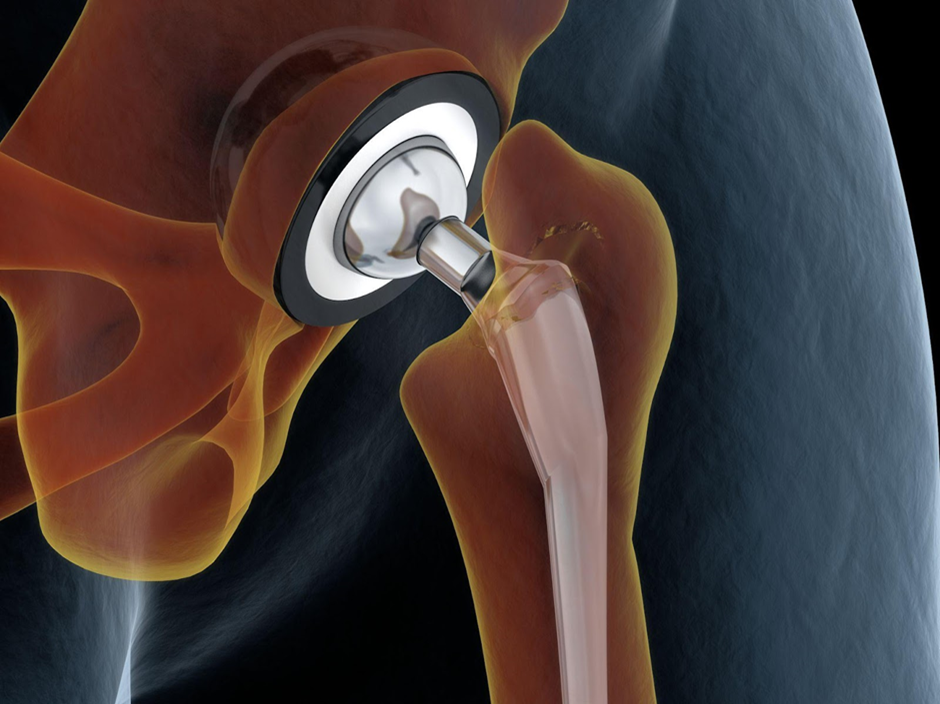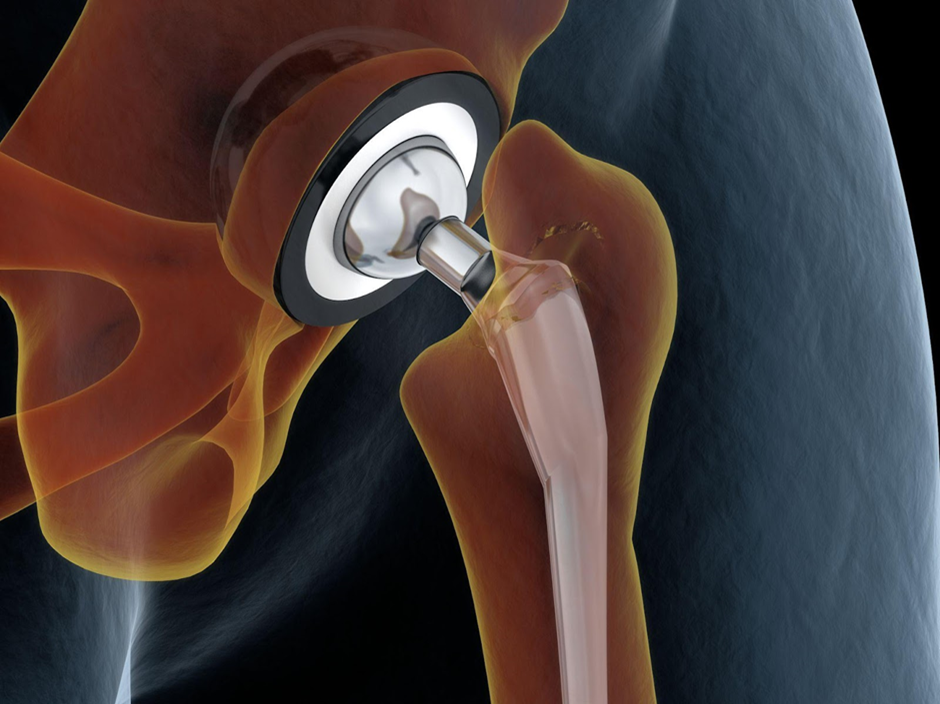 What is the Total Hip Replacement – Anterior Approach?
The total hip replacement-direct anterior approach is a minimally invasive type of surgery performed to replace an injured or damaged hip. This surgical procedure aims at avoiding nearby tendons and muscles, making it a more technically demanding surgery.
Not every hip surgeon can perform the hip replacement anterior approach surgery because it involves a complex approach to joint reconstruction.  Anterior hip replacement surgery is highly recommended for patients who opt for less pain and a shorter recovery time.
Typically, your hip joint is made up of a ball located at the top of the thigh bone, also called the femur. The hip also consists of a socket or the hip bone in the pelvis region of your body. Therefore, hip replacement or hip arthroplasty replaces parts of the damaged hip joint with implants to help you assume your daily activities with less pain.
Advantages and Disadvantages of Total Hip Replacement – Anterior Approach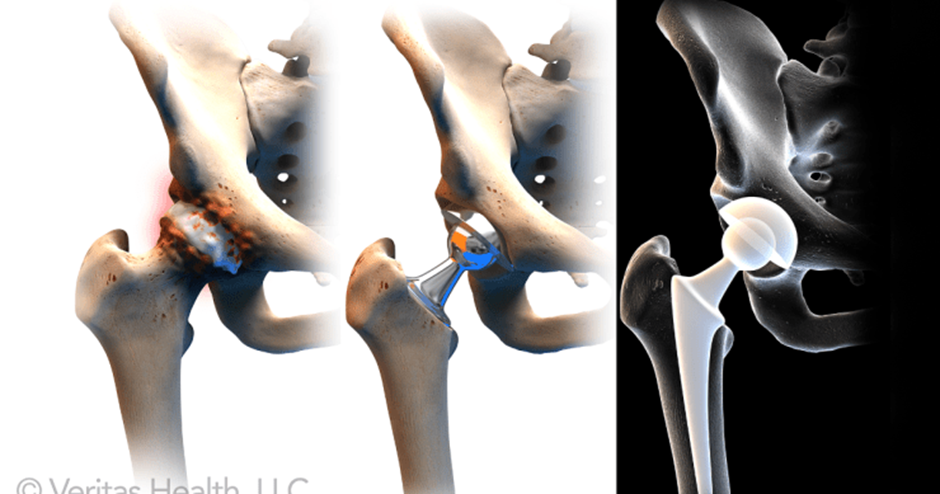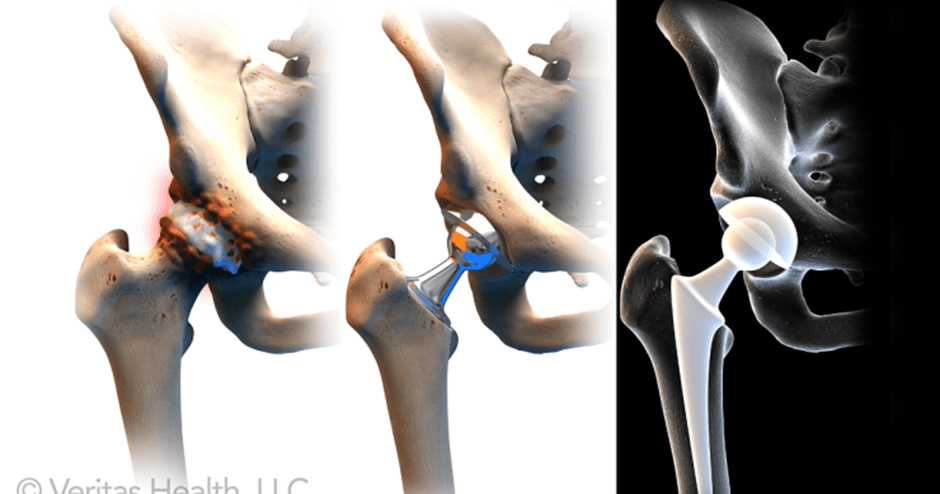 As explained earlier, the anterior hip replacement is a frontal entry surgical procedure that makes it possible to access the damaged hip joint. The technique separates attaching muscles rather than cutting them before reattachment. Check out the following advantages and disadvantages of the hip replacement anterior approach:
Advantages of Total Hip Replacement-Anterior Approach
An anterior hip replacement approach is likely to result in a quicker recovery time. In addition, this anterior hip replacement recovery time will assure you a shorter hospital stay thanks to less damage to anterior hip muscles.
The total hip replacement anterior approach enables your surgeon to measure the artificial implant position and leg length, ensuring more accurate surgery.
There are fewer anterior approach hip precautions that you need to follow to prevent complications such as dislocation.
Anterior hip replacement technique gives you a good view of your anterior hip muscles and hip socket during the surgery process
Disadvantages of Total Hip Replacement-Anterior Approach
Specialized retractors or a special operation table and specific surgical tools are required and this makes the process a little more difficult than other hip replacement surgical procedures.  Dr. Stewart is trained on and proficient in Anterior Approach to Hip Replacement Surgery on and off the specialized table.
You are likely to be exposed to a slightly higher risk of ankle and femoral fractures.
You may experience swelling after hip replacement, pain after hip replacement, or some tingling, burning sensation, or numbness along the thigh. This phenomenon is known as lateral femoral cutaneous nerve injury.
There is evidence that Anterior total Hip Replacement has a lower deep infection, although a slightly higher incidence of wound healing issues.
Who Should Consider Total Hip Replacement – Anterior Approach Surgery?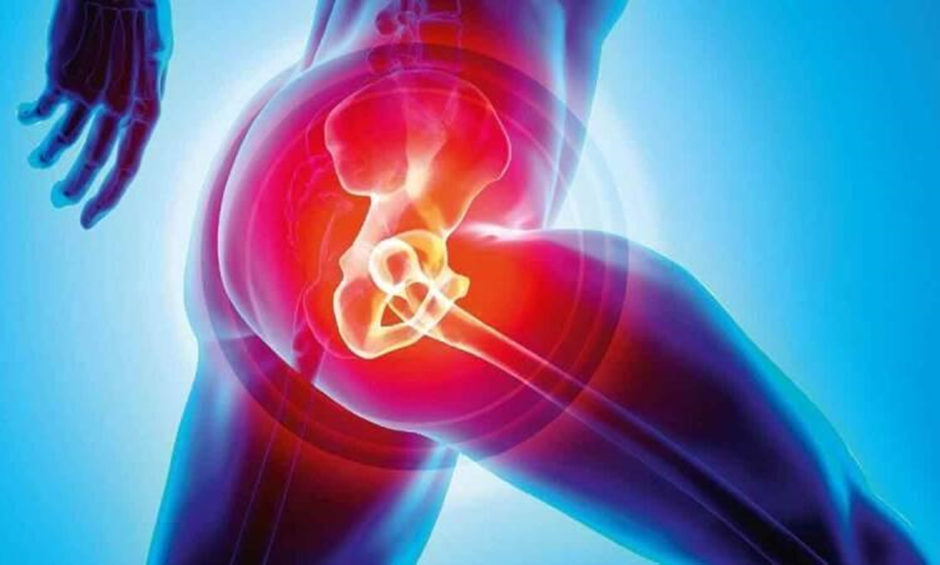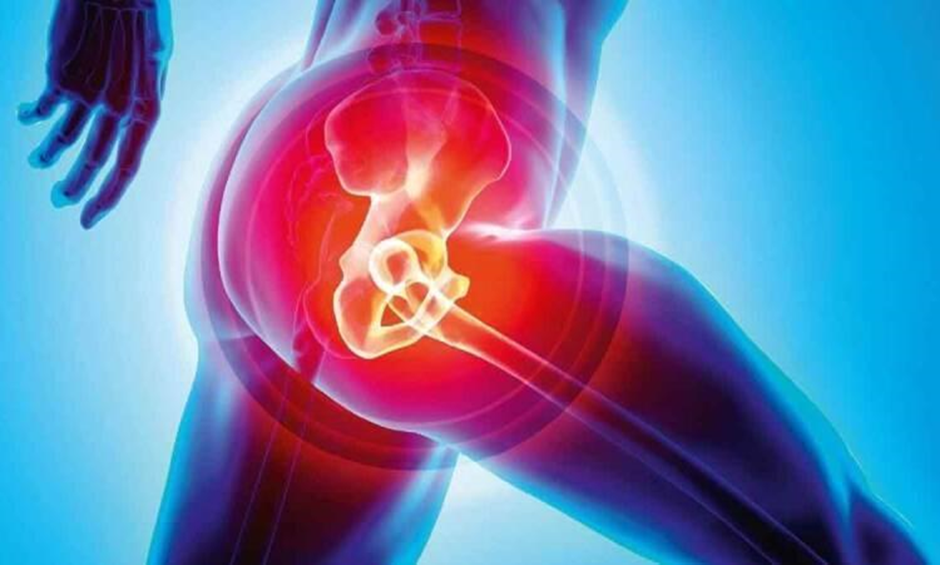 You may require a total hip replacement-anterior approach surgery if you experience inflammation, damage, pain, and injury on your hip joint. All these indicators come as a result of conditions like:
Osteoarthritis (a most common cause of hip pain)
Osteonecrosis or avascular necrosis
Rheumatoid arthritis
Tumor around your hip joint
Injuries such as hip dislocation and hip fracture
Sometimes you may consider anterior hip replacement surgery if your quality of life is deteriorating due to pain in the hip. Here are the common signs to show you that you need total hip replacement-anterior approach surgery:
Difficulty doing the usual simple tasks such as climbing stairs or getting dressed
Inability to enjoy your sleep because of hip pain
Inability to take part in the activities you enjoy the most
Once you experience the above-mentioned conditions, you should schedule an appointment with your doctor for medical interventions. Your doctor will recommend other treatment options, such as taking prescribed medicine to relieve pain and inflammation.
The doctor may also suggest the use of exercise, weight loss, anti-inflammatory medicines, walking aids, physical therapy, and joint injections. If all these measures fail to reduce stiffness and pain, anterior total hip replacement surgery may be your next treatment option to help restore function or improve your quality of life.
Total Hip Replacement – Anterior Approach Diagnosis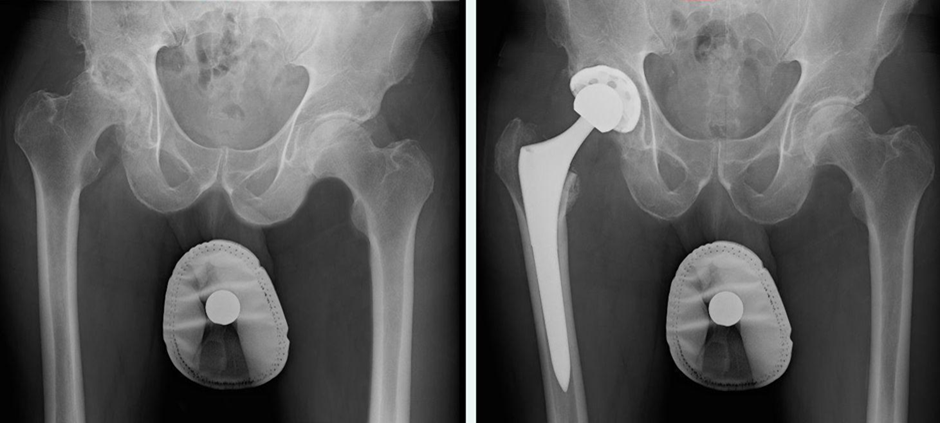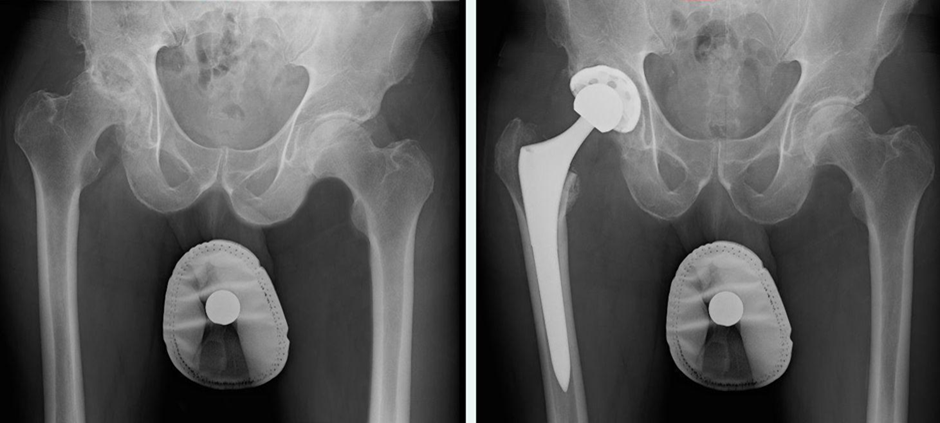 The diagnosis of a condition that may require a total hip replacement-anterior approach is usually done in combination with your medical history. A localized pain in your hip area, physical examination, hip replacement X-ray, MRI, and EMG are some of the techniques used during the diagnosis process.
X-ray: Your caregiver may decide to have an X-ray done on your hip. The X-ray will provide a detailed image of your hip and the condition of the hip joint.
MRI: Magnetic resonance imaging may also help your healthcare provider determine the severity of your hip joint injury. MRI uses powerful radio waves, a magnetic field, and a computer to create detailed images of the inside of your pelvis.
EMG: This is a type of electrodiagnostic testing that helps doctors study muscle and nerve function. EMG testing is done by a neurologist or a physiatrist. In this regard, EMG testing will show the extent of muscle or nerve injury and also determine the location of pathology before you are scheduled for surgery.
Total Hip Replacement – Anterior Approach Treatment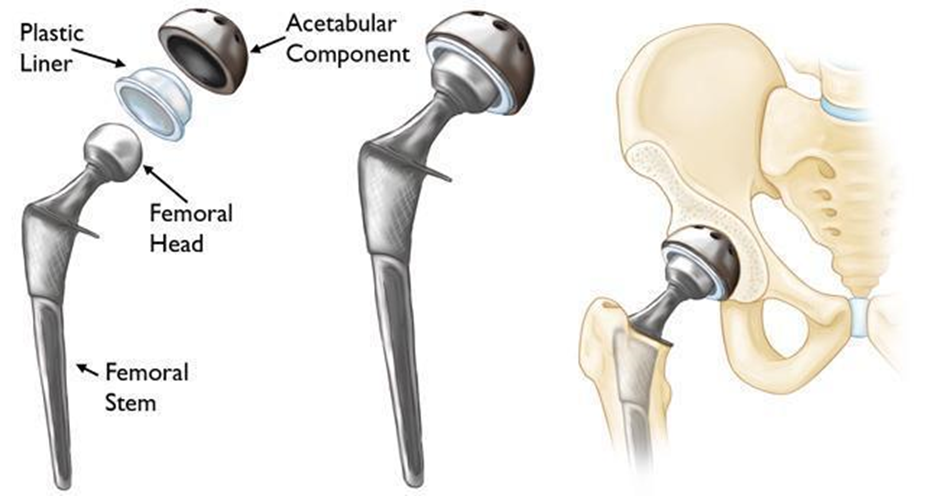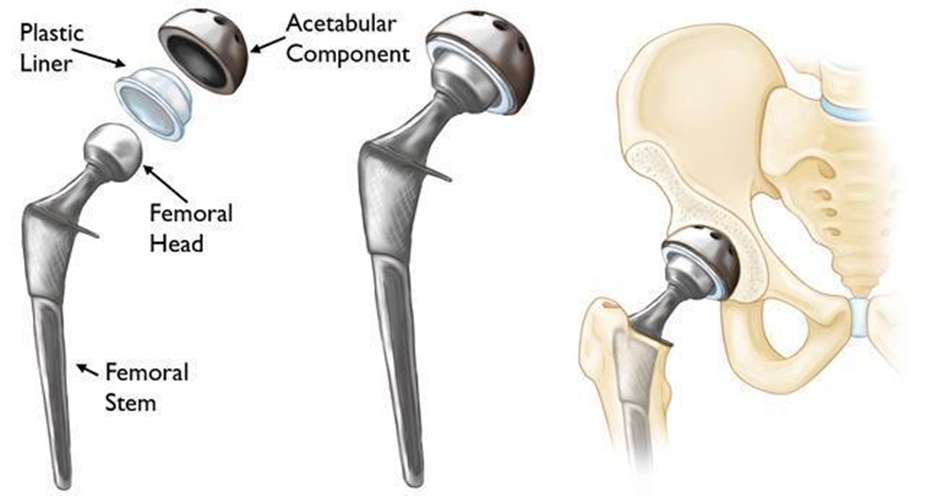 The total hip arthroplasty-anterior approach is increasingly becoming popular among patients of different ages and surgeons. This form of anterior hip replacements provides improved quick results in terms of rehabilitation, pain, and duration of stay in the hospital. As a result,
Treatment in Adults
The treatment of anterior hip replacement surgery in adults involves making small incisions near the front side of the hip. Incisions provide an easy way for the surgeon to access anterior hips muscles by removing damaged cartilage and bones. They also enable the surgeon to insert artificial implants without damaging nearby tendons and muscles. With this form of surgery, anterior hip precautions are crucial.
Risks of Total Hip Replacement – Anterior Approach Surgery


Like all other surgical procedures, the total hip replacement-anterior approach has its own risks and complications. These risks include:
Infections
Bleeding
Possible dislocations
Fracture of your femur
Leg length differences
Wound healing problems
Artery and nerve injuries
swelling after hip replacement
Blood clots in the lungs or legs, or other medical complications
Continued stiffness and pain after hip replacement
Loosening, shifting (subsidence) and wearing out of the artificial implants (prosthesis)
Post-Operative Care of Total Hip Replacement – Anterior Approach Surgery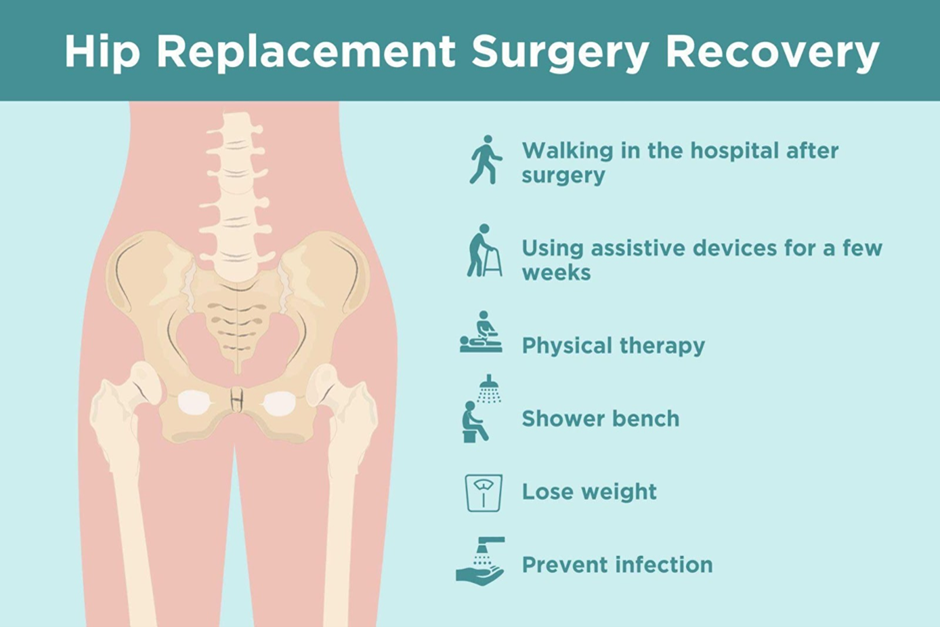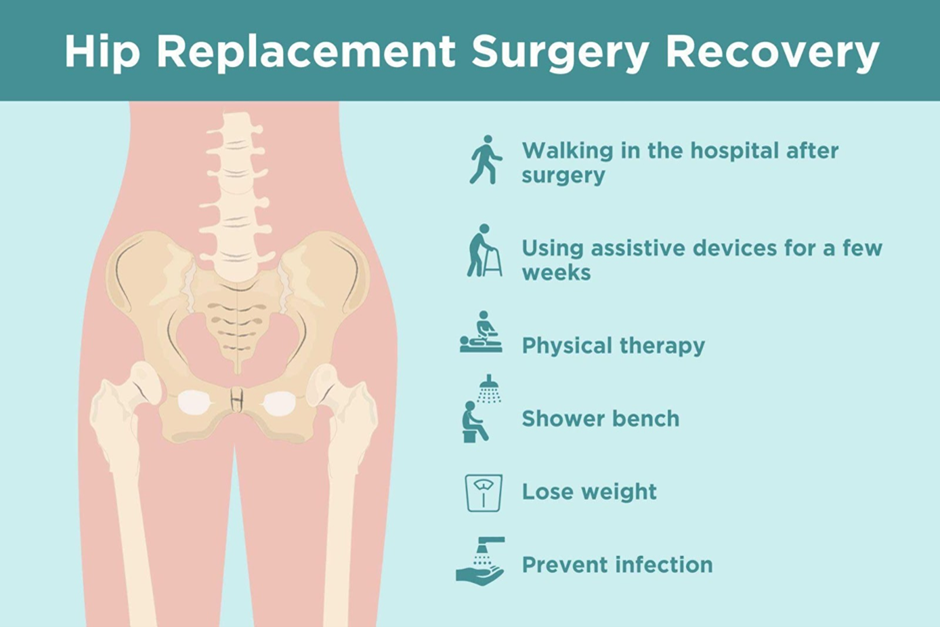 Once your total hip replacement-anterior approach surgery is over, your healthcare provider will give instructions on how to take care of yourself as you recover. In this case, you may be required to strictly follow these post-operative care directives for effective anterior hip replacement recovery week by week:
Walk at least 3 times a day provided that you feel comfortable while doing so to speed up your total hip replacement recovery time.
You must maintain specific hip precautions to avoid dislocation. Some of these precautions include not rotating your foot outward and not extending your hip behind you until you are fully recovered.
Gradually decrease the number of medicines that you take to relieve pain
Take anti-inflammatory medication like Celebrex, naproxen, or ibuprofen as prescribed by your doctor
Do the recommended exercises as instructed by your healthcare provider. In this sense, you may perform exercises such as ankle pumps, quad sets, gluteal squeezes; side raises or hip adduction, hip extensions, and a few strain leg raises
Find the Best Total Hip Replacement – Anterior Approach Center near you in Sarasota, Florida
Sforzo I Dillingham I Stewart Orthopedics + Sports Medicine is a leader in different types of surgeries, including the total hip replacement surgery-anterior approach. Dr. Charles E. Stewart is board-certified and fellowship-trained in providing minimally invasive hip replacement surgery approaches not found in most places.
These approaches are tailored towards smoother and safer surgical experiences, including quicker recoveries. Sforzo I Dillingham I Stewart Orthopedics +Sports Medicine boasts special expertise and skilled surgeons who can perform anterior total hip replacement surgery.
In particular, Dr. Charles E. Stewart is knowledgeable about minimally invasive techniques and is an expert in hip joint replacement, arthritis surgery, tendon repair, and fracture repair.  Dr. Stewart can perform complex reconstruction of failed knee and hip arthroplasties and the technically demanding primary total hip replacement-anterior approach.
Final Thought
It is normal for patients to get worried about what comes during and after anterior approach hip replacement. A good example is the anterior hip replacement scar that reminds you of this surgical procedure. If you are worried about this surgical procedure, just know that it is natural, normal, and understandable. For additional information about total hip replacement-anterior approach surgery, contact Sforzo | Dillingham |Stewart Orthopedics + Sports Medicine to schedule your appointment today.
FAQs
When is it time for me to consider surgery?
Joint replacement surgery is an extremely successful procedure to relieve pain and increase function.  As surgeons, we operate on patients, not on x-rays. Therefore, you should consider having a joint replacement when, despite all of the non-operative treatments, the number of bad days outweigh the number of good days. Quality of life is the most important indicator as patients' tolerance of pain varies and the amount of dysfunction is different between patients with the same severity of arthritis.  When your quality of life has suffered to the point where you need something done, then it is time to consider some type of joint replacement surgery.
How long will my implant last?
The lifespan of an implant depends on a number of factors.  Two of these factors totally depend on you, the patient – your weight and your activity level.  We encourage you to maintain an ideal body weight and live a moderately active lifestyle avoiding high impact activities.  Overall, the success rate of these operations vary between 90 – 95% at 10 years, and 85% at 20 years, which means more than 10 years after surgery and nearly 80-90 out of 100 will be functioning well at 20 years.  If you follow these guidelines your man-made implant should last approximately 15-20 years.
What are the risks?
With any surgery there are certain risks.  From an orthopedic perspective, there are multiple potential risks we try to prevent which include:  infection, postoperative blood clot, breakage of the bone during surgery, nerve injury causing numbness, and blood loss requiring transfusion.  Fortunately, these instances occur so infrequently that it  is generally less than one percent.  Two risks that we worry about and try to prevent are the development of a blood clot and the development of infection.  Around the time of surgery, patients are evaluated for an increased risk of blood clots and will be given a blood thinner after surgery.  Prevention of infection is of the utmost importance to your surgeon, and all patients receive antibiotics before and after the time of surgery. This has been clinically proven to be the most effective method for reducing the risk of infection.  Other unforeseen mechanical complications can occur with the implant, and we use specialized techniques and implant systems to try to avoid these; however, sometimes they are unfortunately unavoidable.
What is minimally invasive surgery?
By definition, the word minimal means the least necessary.  In the majority of cases, we are able to spare muscles and ligaments that we previously felt needed to be either cut or dissected in order to perform these operations.  Minimally invasive surgery is performed through the smallest incision with a minimal amount of trauma.  We also use the minimal amount of anesthesia necessary to provide excellent pain relief and function after the surgery to try to reduce the side effects associated with anesthesia such as: nausea, itching and sleepiness.  In summary, minimally invasive surgery is a movement towards rapid recovery and returning you back to society as quickly as possible.
5..  When may I drive?
Routinely we have told patients with a left knee or left hip replacement that they may drive when they are no longer taking narcotic pain medication, are no longer using a walker for support and feel safe behind the wheel. This time will vary significantly among patients.  For a right knee or hip replacement, current data has shown that on average, patients are ready to return to driving at six weeks.
When will I be back to normal?
Depending on the complexity and invasiveness of the procedure, patients' recovery time will vary. Additionally, a patient's recovery may be slowed or accelerated based on their preoperative conditioning.  We routinely tell a patient with light to moderate labor occupations that they may return to work in 6-8 weeks; however, those with more sedentary jobs or lifestyles may return to baseline activity within a 3-4 week timeframe.  Increased range of motion and control of swelling may continue for up to a year or two following joint replacement surgery.  Hip replacements and partial knee replacements tend to return to normal more quickly than total knee replacement patients.
7  Aside from pain after surgery, what are your biggest complaints?
We frequently receive complaints about the side effects of the narcotic pain medications, thus the reason that we have developed the multi-modal pain management protocol. This being said, gastrointestinal complaints such as nausea and constipation are commonly associated with pain medications.  It is important to take pain medications with food.  In addition, we will provide a prescription for anti-nausea medication, Zofran or Phenergan, which we encourage you to have on hand after the surgery in case you suffer nausea.  For best results, it is important to take this medicine soon after the onset of symptoms.  Constipation can also be a source of concern; we encourage everyone to use a stool softener such as Colace for the first few weeks after surgery.  Those who have problems with regularity, we encourage a laxative such as Dulcolax, for the first few days after surgery.  If you have discomfort from your constipation and it has been more than 5-7 days you can take up to 30mg of the Dulcolax (typically 5mg tabs-so, up to 6 tablets every 12-24 hours).  Both Colace and Dulcolax are over the counter and are available in our office.