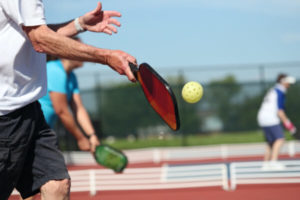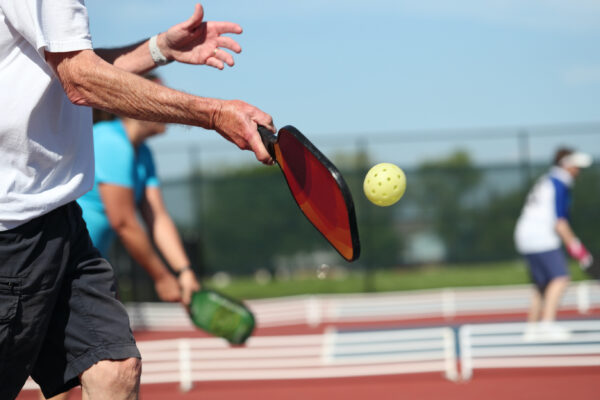 Did you know that pickleball has become the fastest-growing sport in the U.S.? It's a fun sport that requires low-impact aerobic exercise, and the fact that it requires four players makes it an enjoyable, social event. However, with all of this fun-filled activity, injuries are bound to happen. Orthopedic surgeons and sports medicine physicians often report that pickleball and other racket sports result in numerous injuries.
Some of the most common injuries are:
Wrist Injuries
Due to the constant torquing of the arm and wrist in pickleball, wrist injuries are common. Often these are tendonitis issues, which is where the tendons become inflamed and swell.
A wrist sprain happens when stretching or tearing of the ligament occurs. The wrist ligaments are strong bands of connective tissue that connect the end of the hand and wrist bones. Your wrist ligaments stabilize and support the joints. When injured in sports such as pickleball, the sport should be halted and avoided until you are healed. Stabilization, rest, and anti-inflammatory medications often help patients recover within a few weeks.
Shoulder Injury
With pickleball, the shoulder is under a great deal of stress. Often, shoulder pain is due to small tears that occur in the rotator cuff. These tears can progress and may require conservative or surgical treatment. Overuse or injury that might dislocate the humerus bone from the socket can be a more severe diagnosis. With overuse or trauma, fractures or hairline fractures can occur in the bones that make up the shoulder. These will typically need to be stabilized in order to heal correctly. Arthritis can also exacerbate shoulder injury and pain.
Ankle Injuries
Ankle injuries are very common in individuals who play pickleball due to the ballistic motions and torquing in the ankle that cause instability and tears. Achilles tendon tears and ruptures are an example of this type of injury.
Achilles Tendon Rupture
Although the Achilles tendon can withstand great stresses from running, twisting, and jumping, it is extremely vulnerable to injury. A rupture of the tendon is a tearing and separation of the tendon fibers so that the tendon can no longer perform its normal function. It is a painful injury and often patients describe hearing a popping sound when it happens.
The Achilles tendon is the largest tendon in the body and is connected to both the calf muscle and the heel bone and is a fibrous tissue that somewhat resembles twine. It is used when you walk, run, stand, jump, and is especially stressed when you move quickly from side to side.
A rupture of the tendon is a tearing and separation of the tendon fibers so that the tendon can no longer perform its normal function.
Knee Pain
We put constant strain on our knees daily. If you weigh 180 pounds, then 540 pounds of pressure are on your knee joints with every step. When you're doing ballistic or jumping movements the weight and wear and tear on the knees are exacerbated and can lead to pain, injury, and osteoarthritis.  If you have knee pain, take a break, and give your knees a rest. Wear knee braces or kinesiology tape if necessary, and if your knee pain doesn't get better, you need to see an orthopedic surgeon to alleviate any progressive injuries or wear and tear.
When the feet, ankles, and knees are injured, it's not uncommon for hip and back pain to follow due to the body's misalignment. Don't ignore your pain. Seek help from experienced, board-certified, and fellowship-trained orthopedic surgeons and sports medicine physicians.
Preventing Pickleball Injuries:
Warm-Up
Warming up your ankles, knees, hips, wrists, and shoulders is essential before playing pickleball.
Taking a pre-pickleball walk is a great way to get your muscles warm. Additionally, doing a few gentle ballistic movements, such as jumping side to side and front to back, or doing an invisible jump rope for a few seconds before stretching can help.
Stretching
Doing rotational exercises and stretching will help to prevent injuries as well. After you are properly warmed up, stretching from your feet up to your neck is critical to avoid injury. Rotating the ankles, hips, wrists, and shoulders is helpful, as are dep runners stretches and side stretches to name a few.
Hydrate
Drinking plenty of water throughout the day is imperative to stay hydrated.  If you are thirsty or parched during pickleball or any exercise, you were most likely dehydrated beforehand. Drinking before and after is essential to replenish fluids and electrolytes.  Sports drinks and electrolyte-enhanced water is important after sweating.
Protective Gear
Wearing supportive gear and clothing such as the correct footwear with good arch support and ankle support.  Wearing back supports, and knee or wrist braces are also especially important if you have any injuries or need to protect certain areas from reinjury.
Sforzo | Dillingham | Stewart Orthopedics + Sports Medicine
Sforzo | Dillingham | Stewart Orthopedics + Sports Medicine has been providing meticulous care for your orthopedic and sports medicine needs since 2006.
To alleviate your pain and get you back to doing what you love, Dr. Sforzo, Dr. Christopher Dillingham, Dr. Charles Stewart, and Dr. Philip Meinhardt specialize in both non-surgical and surgical treatment for the shoulders, hands, wrists, elbows, hips, knees, ankles spine and neck.  This includes unparalleled expertise in fracture care, sports injuries, tendonitis, arthritis, bursitis, joint replacement, rotator cuff repair, carpal tunnel syndrome, reverse shoulder replacement, ACL reconstruction, reconstruction of spinal deformities, fusion procedures, knee replacement, total hip replacement both traditional and anterior approach. Additionally, the doctors offer the latest in regenerative treatments helping many patients eliminate the need for surgery.
You are more than your injury, more than your pain. And so, the true healthcare practiced at Sforzo | Dillingham | Stewart Orthopedics + Sports Medicine offers a much more personal approach.
Physicians
Christopher R. Sforzo, M.D. is a board-certified orthopedic surgeon and fellowship-trained in hand and upper extremity surgery. He provides expert care in the treatment of problems involving the shoulder, arm, elbow, forearm, wrist, and hand. Including, carpal tunnel syndrome, joint replacement, fracture, and tendon repair.
Christopher L. Dillingham, M.D. is a board-certified orthopedic surgeon and fellowship-trained in hand, shoulder, and arm surgery. He is an expert in the treatment of problems with rotator cuff disorders, carpal tunnel syndrome and nerve injury, joint replacement, arthritis surgery, fracture repair,  tendon repair, and total reverse shoulder surgery.
Charles E. Stewart, M.D. is a Johns Hopkins fellowship-trained and board-certified orthopedic surgeon specializing in adult complex reconstruction of the lower extremity.  His specialties include lower extremity sports injuries, meniscal injuries, ACL reconstruction, partial knee replacement, total hip and knee arthroplasty (replacement), as well as, the reconstruction of failed hip and knee arthroplasties, and complete fracture care.
Philip A. Meinhardt, M.D. is a board-certified orthopedic surgeon and fellowship-trained spine surgeon. He specializes in adult spinal surgeries, including reconstruction of spinal deformities, minimally invasive/microscopic spinal procedures, decompression, spinal instrumentation, fusion procedures, and microscopic cervical disc replacements.
You Have a Choice
Any physicians you choose to see are always your personal decision. It should never be mandated by policy or chosen for you without regard to your needs and best interest. When you choose Sforzo | Dillingham | Stewart Orthopedics + Sports Medicine, you can rest assured that you will be treated with respect and given the opportunity to ask questions.  Your options will be explained in detail, and you will be in the hands of experienced surgeons with the utmost integrity, receiving optimal care.
Please call 941-378-5100 to schedule your appointment or visit www.sforzodillingham.com  for more information.